American Eats Menu
WOW American Eats worked with chefs and culinary leaders from around the country—including inspiration and insights from Iron Chef Jose Garces' team—to create a menu focused on favorite American dishes and flavors, with a modern twist.
Salads
Blackened Shrimp & Spinach
Simple, delicious… and Popeye approved! This salad includes maple pepper bacon, Monterey jack cheese, fresh baby spinach, cherry tomatoes, red onion, with 1,000 Island dressing.
Crispy Cali Chicken
Inspired from the Baja region of California, the Crispy Cali Chicken includes a fresh combination of grated cotija cheese, fire roasted corn, black beans, bell peppers, tomatoes, thinly shaved red radish, romaine and that sweet, sweet baby kale. Served with a chipotle cotija dressing.
Grilled Chicken Cobb
The quintessential American salad featuring marinated grilled chicken, maple pepper bacon, boiled egg, bleu cheese crumbles, cherry tomato, shredded carrots, romaine and sweet baby kale blend. Served with our scratch-made honey mustard dressing.
Wraps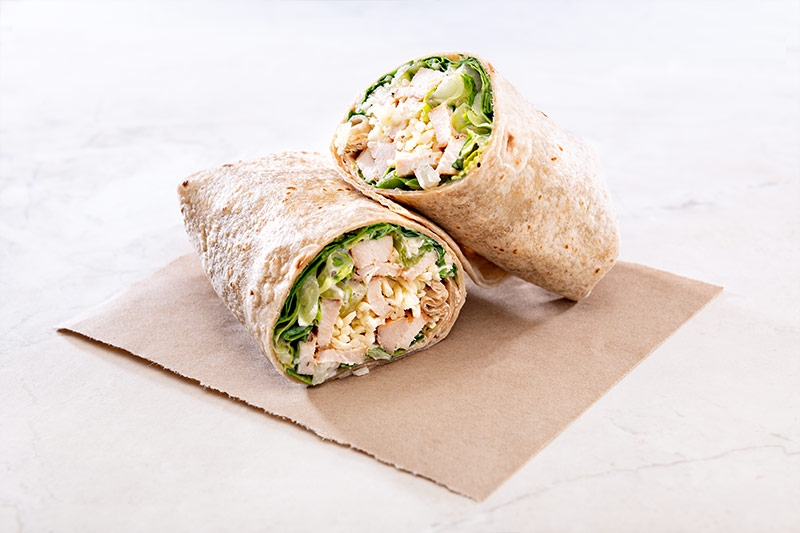 Sonoma Ranch
Grilled chicken, Monterey jack cheese, romaine and baby kale blend, and the best ranch dressing you've ever tasted. Wrapped in a 12" whole wheat tortilla.
Rolled Quesadilla
Choice of grilled chicken or blackened shrimp, red bell peppers, Oaxaca and Jack cheese on a massive 14" flour tortilla. Dip it real good in our chipotle sour cream.
Kentucky Crispy Wrap
Your new best friend. Crispy chicken, maple pepper bacon, cheddar cheese, romaine and kale blend, honey mustard dressing, and a 12" whole wheat tortilla holding it together.
Buffalo Shrimp
This wrap is cram-packed with crispy shrimp, cheddar cheese, Buffalo sauce, diced celery, romaine and kale blend, with ranch dressing and bleu cheese crumbles. Wrapped in a 12" whole wheat tortilla.
Chicken Sandwiches
Pimento Cheesy Chicken Sandwich
Y'all can't get more southern than crispy chicken, pimento cheese spread, maple pepper bacon, and chipotle-marinated pickles on a freshly baked craft bun. Yea we did.
Classic Chicken Sandwich
Choice of crispy or grilled chicken and topped with dill pickle slices. Served up with a side of Alabama King white BBQ sauce for dipping.
JBR Chicken Sandwich
Our Jack, Bacon, Ranch crispy chicken sandwich became our most popular handheld for good reason. We use Jack cheese, maple pepper bacon, and our world-famous ranch dressing.
Burgers
The Single
Level up your burger game with our beef brisket and chuck patty. Made from fresh, never frozen, humanely raised Midwest cattle, with zero added hormones or antibiotics. Topped with American cheese and 1,000 Island Dressing served on a preservative free craft burger bun. We wouldn't steer you in the wrong direction.
The Double
This is it. Stop Everything. Your new favorite. Everything you crave. Two beef brisket and chuck patties, American cheese, and 1,000 Island Dressing on a craft burger bun. Add 2 slices of maple pepper bacon. You're welcome.
Beyond Burger™
100% plant-based burger that looks, cooks, and tastes like a fresh beef burger. It has all the juicy, meat deliciousness of a traditional burger, but a plant-based experience with no GMOs, soy, or gluten. We top the Beyond burger with lettuce, tomato, 1,000 Island Dressing. The primary source of protein in the Beyond Burger comes from peas, but also includes mung beans and rice protein.
Chicken Wings
World of Wings™. The Wingery™. The item that started it all. Our fresh, never frozen, chicken wings are marinated in a proprietary blend of spices for 24-hours. Wings can come without sauce, but we recommend the fully dressed experience. Choose from one of our signature flavors: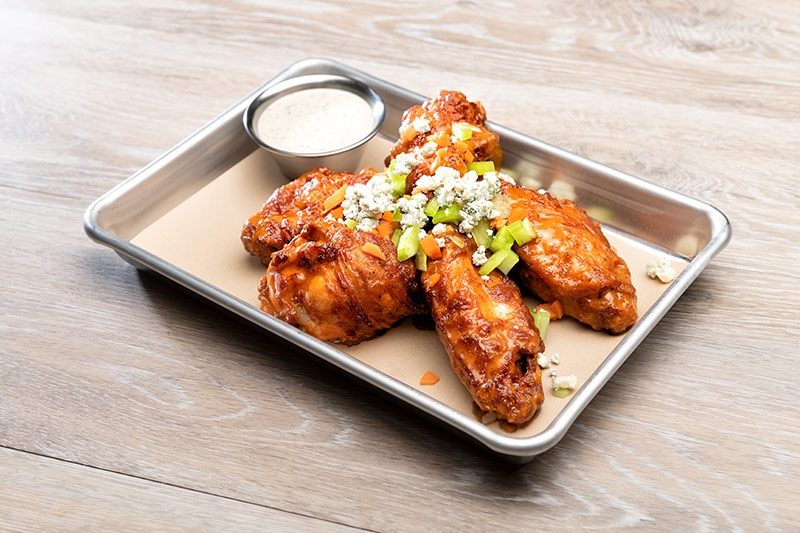 Buffalo I, II, XIII
Bleu cheese crumbles, diced celery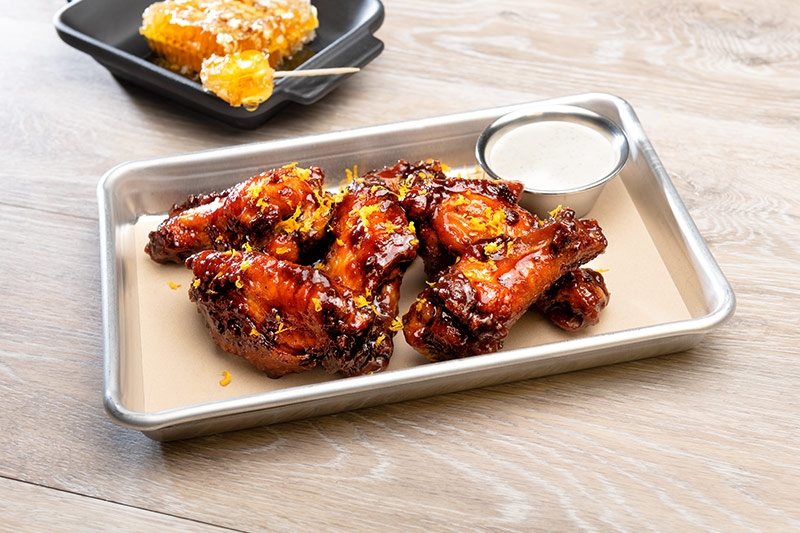 Kansas City
Fresh orange zest, Honeycomb
Santa Fe
Crumbled cotija cheese, diced tomatoes
Paradise City
Crispy garlic, cilantro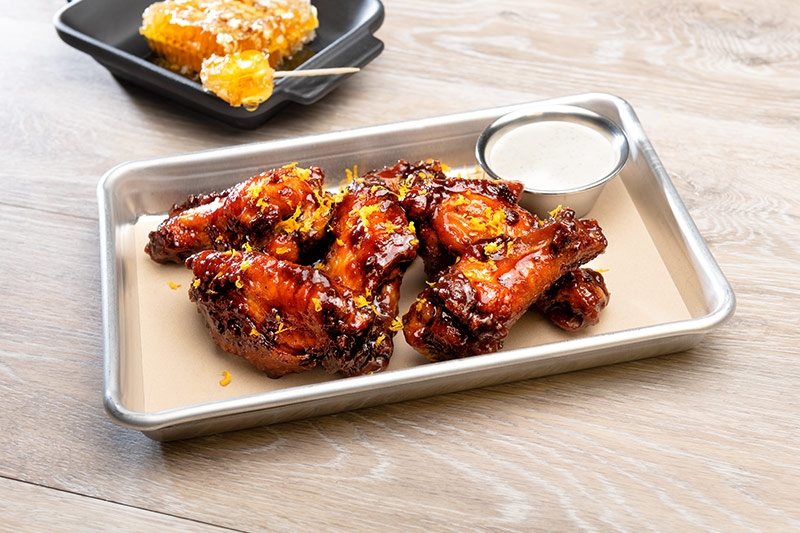 Alabama King
Purple cabbage, lime juice, extra virgin olive oil, maldon salt
Polynesian
Crushed pineapple, maraschino cherry
Asian
Toasted sesame seeds, green onion
Shanghai
Pickled cucumber, shredded carrots, cilantro, ranch
Chicken Tenders
The reason lunch starts at 10:30 AM. These crispy, crunchy, fresh never frozen, chicken tenders are hand-battered and served with the sauce of your choice.
Sauces
Buffalo 1
Mild Buffalo sauce with the perfect balance of flavor and light cayenne pepper.
Buffalo 2
Medium Buffalo sauce with a touch of tropical spice from orange habaneros.
Buffalo 13
Hot Buffalo sauce featuring orange habaneros for citrus-like flavor and red habaneros for an intense kick.
Paradise City
Sweet and spicy Asian chili sauce with a soy glaze.
Asian
Sweet and savory Japanese sauce with a lemon teriyaki finish.
Kansas City
A thick BBQ sauce with sweet honey
Alabama King
White BBQ sauce made with horseradish, lemon, black pepper, salt, and cayenne.
Shanghai
Combination of spicy soy sauce, mustard, garlic, and sriracha.
Santa Fe
Infusion of our signature Buffalo sauce with smoked jalapeno and spicy red Chile sauces.
Polynesian
A tropical sweet and sour sauce with a soy glaze.
Sides and Snacks
Red Beans and Rice
A true Louisiana Creole tradition, our Red Beans & Rice includes Chef Paul Prudhomme andouille sausage, bell pepper, onion, celery, spices, with perfectly cooked white rice.
French Fries
Classic cut French Fries with our 101 signature WOW spice blend.
Tater Tots
Crispy Tater Tots infused with natural sea salt and cracked black pepper.
Cheesy Broccoli
Fresh broccoli topped with cheese.
Sweet Potato Waffle Fries
The fancy French fry in a waffle cut with maple dipping sauce.
WOW AMERICAN EATS View Covington, LA Menu
FEATURED PRODUCTS AVAILABLE AT PARTICIPATING LOCATIONS ONLY